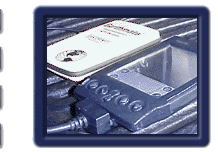 If you want to see your business concept on your Palm device, on the web, on your PC as a Windows app, or on another platform, we can help!

We will create a working prototype for you with a very quick turnaround, for very little money. This may be the step you need to prove your concept or secure funding for your business.

And, your idea is safe with us. Please see our Confidentiality Policy.

After you succeed with your prototype, we can also get your production application running and support it post-implementation.
<!td width="142" height="400" colspan=2>
<!td height=250 colspan=2> Text Links:
About Us
Prototypes
Confidentiality
Get Started
Contact Us


â°? Segesman Corporation

This service isn't just for entrepreneurs. If your I.T. department has new development needs, but doesn't have the staff or budget to support them, contact us. We'll get your initiatives rolling on a shoestring.


11/25/2003 Pharmacy Resolutions, Inc. Deploys Internet Scheduling Database, Developed by Segesman's QuickPrototypes.com
and other QuickPrototypes news.